OLD ADVERTISING FOR SALE
Companies have traditionally used all kinds of advertising to help sell their products. While some large concerns used newspaper and display advertising, smaller companies were still able to effectively advertise on the packets, tins, bottles and containers they used to sell their produce. Today, all types of old advertising is highly collectable and the more colourful and pictorial the better. The Virtual Bottle Shop currently has the following items for sale.
NOTE - Please LEFT CLICK on the thuumbnail to see a bigger more detailed image
ADVERTISING CARDS , POSTERS & SIGNS
1. CORK DISTILLERIES Co. Ltd. A fabulous old Irish tin whisky advertsing sign from Cork. Slight damage to some areas. Measures 31cm high and 41cm wide. GREAT Whisky item. Price is £40 / $65 , postage extra

2.PARKINSONS SUGAR COATED PILLS R PARKINSON & SONS CHEMISTS BURNLEY. Fabulous lady pictorial card advert from an old Lancashire Chemists shop. Great condition, very little damage. Measures 50cm tall and 37cm wide. Fabulous old advertising item. Price is £175 / $280, postage extra.SORRY - NOW SOLD

3. FIGHT PAIN & DISEASE WITH MORRIS EVANS RENOWNED REMEDIES . Good size medical advertising card. Measures 14.5 inches high by just over 10 inches wide. Portrays a GENIE type character beckoning to a chap in his underpants !! Also has 3 different MORRIS EVANS packets of medicine. Superb condition card, once part of a hoard from Wales. Price £30 / $45 postage extra - SORRY - NOW SOLD

4.REDGATE TABLE WATERS - THE ACKNOWLEDGED BEST SINCE 1878. Beautiful multocolor card ad measuring just over 14 inches by 9 inches. Shows a bottle of lemonade and a bottle of orange in old style INTERNAL SCREW THREAD mineral bottles . Date is most likely 1920's - 1930's. Really good condition - cane out of the old Redgate premises in Nottingham . Price just £20 or $30 - postage extra
5.HARRIS' FLU NIPS - Nip the Flu before the Flu nips you ! Harris Bros, Pearson St Hull. An oval card with string in place to display it. Measures 18cm across and 15cm from top to bottom. Circa 1920. Came from a warehouse clearance so in mint condition. We bought a small hoard. Price just $5 each or 5 for $20.
ADVERTISING BLOTTERS
1.DUCKWORTH & Co. - Blotter ad card advertising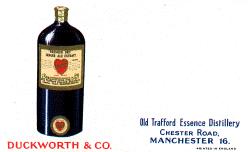 Duckworth Premier Ginger Ale Extract. Features a large blue essence bottle. Rear of card is covered in blotting paper.Came from a warehouse clearance os in mint condition. Price only $5 or 5 for $20
2.MAKE GINGER ALE - This is another advertising and blotter card. Front contains advertising, rear is covered in blotting paper. Shows two large blue essence bottles. Measures 15cm by 10cm. Another warehouse clearance so in mint and non-used condition. $5 each and now only a few left.
ADVERTISING POSTCARDS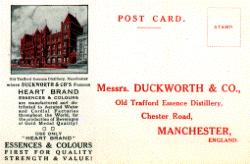 1. MESSRS DUCKWORTH & Co. - This is an unusual advertising postcard. It features the splending Gothic style Victorian premises of Duckworths in Old Trafford Manchester in one corner. The card also advertises Heart Brand Essences & Closures. The rear is covered in writing and spaces to be used by customers. These postcards were actually given away free by the compnay to prospective customers, to solicit their trade. Price only $5
ADVERTISING PACKAGING
1. GRAHAM FARISH SNAP CLOSURES -Full box contains rubber rings, metal lids for 2lb jam jars and metal snap closures for jars plus instructions - could turn any jam jar into a fruit / preserving jar. Circa 1930/40 ie. WARTIME ERA. We have just 5 boxes, each $25.
ADVERTISING TINS
1. WAVERLEY PEN - Beautiful little tin with an old metal nib pictorial. In top mint condition - another warehouse clearance and we have a small number .Circa 1920 - 1930 . Measures 6.5cm by 4cm and is 2.5cm high. Just $8 or $20 for 3.

Interested in anything here? Please note most prices include airmail postage. If you wish to place any orders please use the hot e-mail link below. Please notify us what you want first - we can then check availability and notify you about payment options. NOTHING here for you ? TELL us what sort of old advertising you want to see or buy !

MUCH more advertising coming to these pages soon - Y'ALL COME ON BACK !!

Click here to order please