WHISKIES FOR SALE
These are surprisingly rare in the UK and form a select little group. We have a number for sale at present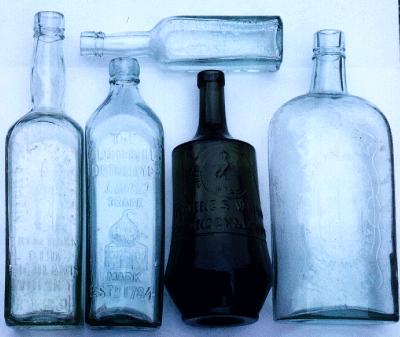 1. 24cm tall Thorne's Whisky Greenock & London. Dark greenglass whisky bottle, lion pictorial, unusual cylindrical shape. $35 (very few UK whiskies are pictorial )

2. 30cm tall Napier Johnstones Old Highland Whisky Rd. 33831. Very tall aqua whisky with pictorial of a tall glass whisky bottle ! Does have a small burst air bubble/ding on one side $35

3.27cm tall oval section aqua whisky bottle. Front is covered in embossing - Mason & Burrows Auld Lang Syne Scotch Whisky, Manchester. The company coat of arms - a shield takes up the centre of the bottle. $35

4.19.5cm tall Napier Johnstones Old Highland Whisky. Smaller sized bottle but has the bottle pictorial on another panel. $25

Glass Whisky Flasks

These small flasks were dsigned to be carried home from the licensed premises and are often called hip-flasks. They would often be filled from a large Whisky decanter situated on the bar counter. Others would be sold by wine and spirit merchants. The best and rarest carry a pictorial trade mark. Here are some we have in stock.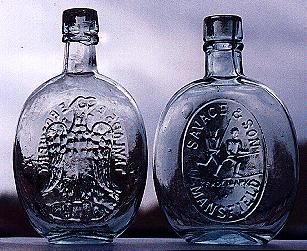 1. Taylors Eagle Brewery Burlington Street Manchester. Rear has beautiful large eagle pictorial - Britain's only eagle flask !! Pumpkin seed shape flask in aqua $40
2. Savage & Sons Mansfield. Very attractive trademark of two running Indians or "savages" carrying spears !Pumpkin seed shape flask in aqua, slight cloudy patch on front $40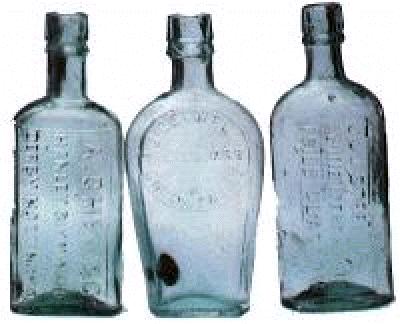 3. A Chew & Co, Hanley, Birmingham, Derby, Nottingham. This is an oval section shouldered flask, very unusual to have FOUR UK cities embossed ,almost certainly a wine & spirit merchants bottle $25
4. J Cresswell The Square Shrewsbury. This is a much earlier "Coffin" style flask which looks to be from the 1880's/ 1890's. No doubt that this one is from a Public House in Shrewsbury. $25
5. J & J Steel, Wine Merchants Glasgow. This is another oval section shouldered flask - unusual here is the 1 Gill capacity also embossed $25
All embossing on the bottle is shown by bold text. Prices are shown here in US $ and DO NOT include postage for the large whiskies at the top but just to confuse you - DOES include postage on the smaller spirit flasks..If you want prices in £ sterling please let us know. These are heavy bottles, especially the taller ones and we can offer you the choice of air or cheaper sea mail. Should you wish to buy any bottle, e-mail us and we can reserve the bottle in your name. We then pack and weigh it and tell you what the postal charge will be ! When your cheque arrives the bottle is despatched. Should you wish to find any other glass whiskies from the UK please let us know. You can order any of these bottles from our direct e-mail link on the bottle shop page.
STONEWARE WHISKY JUGS