THE VIRTUAL BOTTLE SHOP PRESENTS
ONLINE SALESLIST #5
Another list of bottles from the Virtual Bottle Shop.Browse through the list and if anything interests you, e-mail your order directly from this page.We can then advise you about availablity and tell you how to pay. All prices are in US dollars - prices available in other currencies if required. Postage is included in the price to the USA and CANADA only. Better not waste any time - our regular lists usually sell out quickly !
BLACKGLASS
1.24cm tall dark green blackglass embossed case gin - P LOOPLUYT DISTILLERS SCHIEDAM. Late 19th century dutch gin bottle $25
2.29.5cm tall blackglass wine with seal attached. Seal reads ROUSDON JUBILEE 1887 and was presumably made to celebrate the golden jubilee of Queen Victoria. A rare item, a little slice of history ! $100
3.26cm tall cylinder blackglass wine. Very old circa 1780 - 1790, has the typical English pontil mark on the base. This bottle is in excellent mint condition, being part of a hoard of 50 found in the cellar of a Scottish mansion. We have six, all at just $65 each - a real bargain for a 200 year old item !! !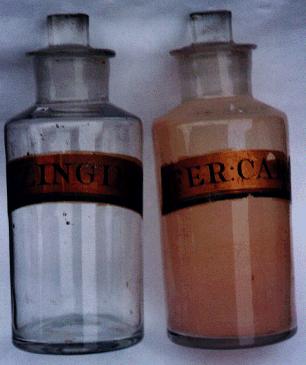 CHEMIST ROUNDS
Please note. The following four Chemist Rounds were found in an old Chemists shop and were once part of a display. They date to the late 1880's and are completely original down to the original stoppers ! You do not find these every day !
4.20cm tall clearglass chemist round with original clearglass stopper. Has a gold leaf label which reads TR:QUIN:AM. Late 19th century item, original label is in very good condition $50. Has a narrow neck opening.SOLD
5.Exactly as above but this chemist round has a label for SP:VINIA. $50 SOLD
6.20cm tall clearglass chemist round with original clearglass stopper. Has a wide mouth opening. Original gold leaf label reads : P:ZINGIB:O $50 SOLD
7.Exactly as above but this one has a label reading FER:CAT and there is some remains of the chemical still on the inside of the jar $50. Wide mouth opening SOLD
INKS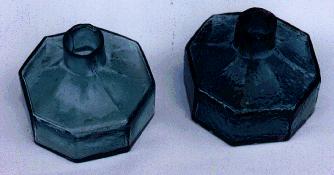 8.Ice blue "Big Top" shearlip ink. Very slight bruise on the inside of the shearlip. G.C.W on the base $30 SOLD
9.Light turquoise blue "Big Top" ink Has a lovely rippled or hammered finish to the glass on the surface. Has a small burst air bubble on base and a slight sliver of glass missing on the lip - but this item displays well. $35 SOLD

10.Cobalt "House" or "Ship" ink with a two penrests. Small chip on the outside of the lip. $35
11.As above but this ones comes in a medium blue $30
12.As above again except this example is in light blue $25
13.13.5cm tall cobalt master glass ink. Ink has 18 facetted sides and a pouring lip. Neat little item and the smallest of the various master sizes $45. Excellent condition.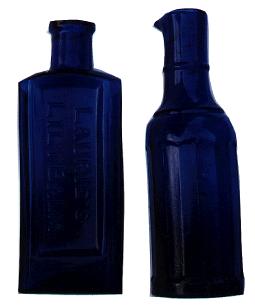 HAIRS & PERFUMES
14.13cm tall cobal rectangular shaped bottle, embossed "LAURIE'S LILYBALM" May well be a perfume. Is a typical early 1880's bottle with front panel inset. $40
15.16cm tall cobalt hair restorer - THE AFRICAN HAR RESTORER. Another early 1880's bottle with the typical inset front panel. Has a few slight scratches on the rear but this is a very scarce hair restorer. $85 SOLD
16.17cm tall deep brown hair restorer DR. WILSON'S HAIR RESTORER in good condition $30
POISONS CURES & MEDICINES etc
17. 17.5cm tall cobalt groundlip flask poison bottle. Has 10oz on base, POISONOUS NOT TO BE TAKEN on the front and Rd No 500540 on the back. Good condition $50 SOLD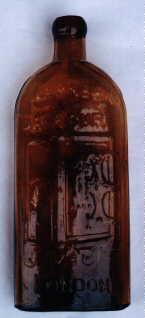 18.WARNER'S SAFE CURE LONDON - A one pint bottle in medium amber and only $50
19.KEY'S MANU-MOLLIENT FOR THE SKIN. Unusual bottle in nice shade of emerald green $25
20.13cm tall LIQUFRUTA COUGH CURE. This bottle is in a strange shade of light yellow to green. All of the embossing comes on the side panel $20
21.13cm tall VENO'S LIGHTNING COUGH CURE This is an ABM bottle with peculiar coloration. One half of the bottle is in a deeper shade of light amber than the other side ! $20
22.10.5cm tall clearglass pontilled medicine HENRY'S CALCINED MAGNESIA MANCHESTER.. An unusual item, pontilled medicines are rare in England.$30 SOLD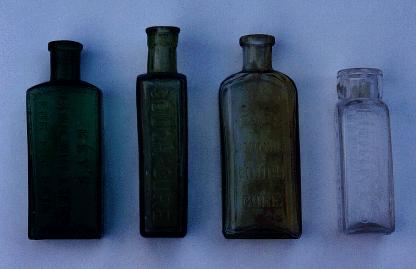 CREAMS & GINGER !
23.CORNBROOK BREWERY HULME MANCHESTER. Nice honey glaze ginger beer with attractve countryside scene viewed through a horseshoe. Excellent condition $50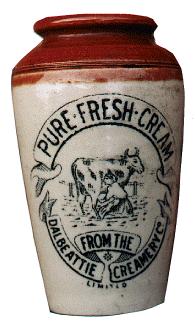 24.PURE RCH THICK CREAM from the DALBEATTIE CREAMERY. Rich orange brown top, with a milkmaid and cow pictorial. Not of one Scotland's common pots. Very nice $65
25.PURE RICH THICK CREAM from the CREAMERIES Ltd. HUNTLY ABDEENSHIRE. Nice orange brown top, milkmaid and cow pictorial again $40
26.All white pot with blue print - PURE RICH CREAM from the STRATHBOGIE DAIRY HUNTLY Attractive cream $40 SOLD
GLASS CHRISTMAS LIGHTS
Please note. These were hung from trees on wire which was tied around the neck of the jar, hence many have very slight damage due to the wire !
27.Dark green example with crosshatch pattern , slight damage to shearlip $35
28.As above but nice shade of light green $35
29.As top but in great shade of honey amber $35
30.As top but comes in white - made from milkglass $35
You could even use these lights again. Put in a small night-light and tie on some wire and you can roll back the years when you light it !!
WANT ANYTHING ? Order it now before it goes ! MISSED something you wanted ? Just tell us about it and maybe we can find it for you. Also let us have your e-mail address so that you can go on our e-mail list and be notified first when new lists come out.
NOTE we also have a 201 lot bottle auction curently online plus lists of nursers and inks for sale and also a bulk buyers list.These can be found on the home page or in the Virtual Bottle Shop.