Think Ink saleslist
The Virtual Bottle Shop presents a selection of inks for sale - nearly all are illustrated too. No fantastic rarities but still some scarce, hard-to-find ink bottles as well as some good window bottles in a good range of shapes and sizes. Why not buy some as traders ? At these prices you can afford to !
Want anything from this list ? Just e-mail your order direct using the hot e-mail link at the foot of this page and we will reserve the bottles while you get the payment sorted out. ALL prices are in US $ and include air-mail postage. (You can have the prices in your currency if you wish) You still have our unconditional return it if you don't like it guarantee !
FIGURAL INKS
These inks are amongst the earliest found and date to around 1870-1890. They are hugely popular in the UK and are eagerly collected. The vast majority of them have a shearlip and some of the oldest carry a registration diamond or the word - "Patent"

1. Aqua "BARRELL" ink. This is the side lying version of the barrel as you can see in the pic above $50
2. Figural aqua "STOVE" ink with a formed lip. This ink resembles a wood-burning stove hence its name, it comes complete with its chimney ! A later ink than the ones above but still a figural $35
SHEARLIP INKS
These are the UK's commonest inks. Each has a very rough lip which looks as though it is broken - it isn't ! They were utilitarian items, made very cheaply. The glassblower blew the glass into a mould and then simply snapped off the remainder of the glass, leaving a rough edge or a shearlip. This made a good seal with a cork.

3. Aqua octagonal tipper ink $20 - tips over to one side to allow easier access
4. Beautiful light blue boat ink $25
5. Medium blue square section in with facetted shoulders, great condition $25
6. Attractive light blue/ice blue tipper ink $25
7. Light moss green octagonal or 8 sider. This one really sparkles !!! $25
8. Cobalt blue ink, square section type, excellent condition and only $30
9. Cobalt blue larger type of boat or house ink. Has a rough shearlip but is hard to find in this dark colour $30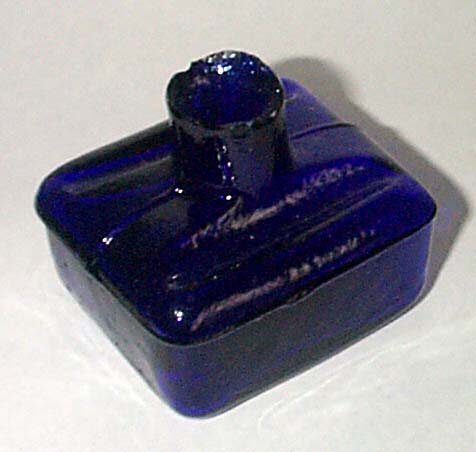 10. Light ice blue square section ink with facetted shoulders, excellent shiny condition and a really good clean shearlip. Just $2
11. Unusual cotton reel ink with a band of glass on the neck - ice blue colour. Small flake of glass missing on neck so only $20
12. Unusual large aqua square section ink with ribs down all four sides. Part of one has been left blank for a label $20
13. Beautiful light olive green square section ink with ribs in 3 sides and is embossed LYONS INK on the base. Has the typical shearlip. Great color !! $25
14. Another GREAT square or 4 sider with ribs on three sides in an amazing light moss green. Cloudy patch inside on one internal panel but this may clear up. Another good one !! $25
15. SQUAT Mid dark green octagonal or 8 sider which again has lots of cahracter with plenty of aur bubbles. Another shearlip. $25
16. ELONGATED mid dark green octagonal or 8 sider. Is slight narrower but taller than the ink above. $25
17. SQUAT light green square ink with ribs on 3 sides.Another shearlip in excellent condition $25
18. Pale or light sapphire blue 8 sider or octagonal ink. Has a shearlip again and a few slight;y cloudy patches but one hell of a rare color. $30

19. Ice blue Boat ink. Very pale but it is a color ink !!Shearlip and only $25
20. Mid olive green Boat ink, again a shearlip and a much deeper shade $30
21. Aqua octagonal Tipper ink but this is the much rarer type with a much more pronounced "tip" or lean over to allow access to the bottle $30
EMBOSSED NAME INKS
22. Aqua "Cotton Reel" type ink embossed PRIDGE .in beautiful sript writing Not many of these about and just $25
23. Aqua square section ink embossed simply FIELDS - only $20
APPLIED LIP INKS
Unlike shearlip inks, these all have a properly formed or applied lip.

24. 8cm tall aqua curved back triangular section ink, opening is offset to one side, and has a heavy glass rim at base and shoulders. $30
25. 7cm tall aqua oval section ink, heavy rim top and base $25
26. Ver rare aqua OCTAGONAL TIPPER Ink but this one has an applied lip - look at the pic above !! $30
27. 7cm tall cobalt circular ink, top has double ring, bottle is machine made, 4oz embossed on the front/back $25
28. 6cm tall cobalt circular, shape as above, same lip, machine made and no capacity embossed $25
29. 5cm square section cobalt ink, 2oz embossed below lip, machine made bottle $20.
INK ODDITIES
30. Very unusual Doulton master ink with peculiar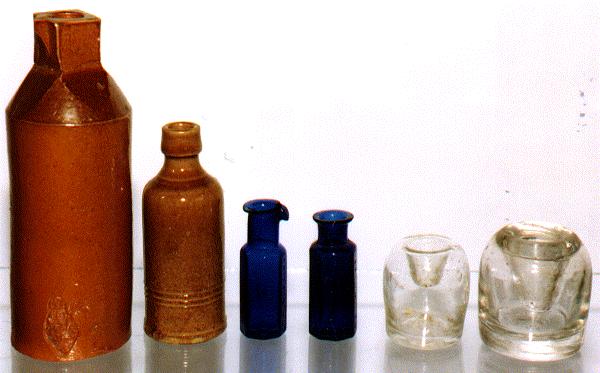 patent square section top. Orange brown glaze, DOULTON pottery mark plus a diamond registration mark, 14cm tall. ……. $15
31.Very unusual miniature or sample ink in tan glaze. No markings but scarce. Only 9cm tall $30
32. Small clearglass pontilled NON-SPILL or travelling ink.Central aperture allows a pen in but it is very hard for the ink to get out ! $20
33. Larger clearglass non-spill or travelling ink $25
GLASS MASTER INKS
34. 21cm tall mid to light blue master ink with pouring lip. Has 18 rectangular panels. Great condition $45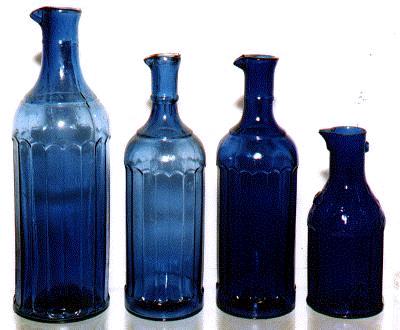 35. Almost as above except this example is a lighter blue and has a much thinner edge to the lip. $35
Please note : Master inks were used to fill up inkwells or smaller ink bottles, hence the reason why just about every one had a pouring lip formed into the bottle. Probaly the most attractive masters are those which come in cobalt blue glass.- you will find some of them here.
Nothing here for you here ? - well tell us what inks you would like to see here and we will try to help.If you do want something, better get on with that e-mail. Bottles on our lists tend to go very quickly because they are priced to sell!!

E-mail for orders Bygonz@yahoo.com