13.Very rare light green armchair ink - not an easy ink to track down ! $45

14. 8cm tall aqua curved back triangular section ink, opening is offset to one side, and has a heavy glass rim at base and shoulders. $30
15. 7cm tall aqua oval section ink, heavy rim top and base $25
16. 7cm tall cobalt circular ink, top has double ring, bottle is machine made, 4oz embossed on the front/back $25
17. 6cm tall cobalt circular, shape as above, same lip, machine made and no capacity embossed $25
18. 5cm square section cobalt ink, 2oz embossed below lip, machine made bottle $20.
19. Light blue POLYGON ink, name embossed, diagonal penrest and the neck is offset into one corner - a very nice ink $55

20.. Mid-blue to cobalt POLYGON ink - details exactly as above $65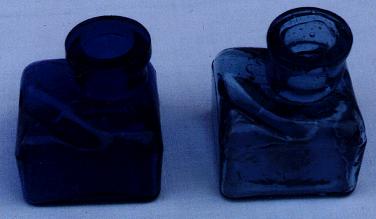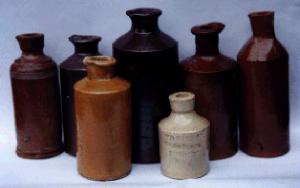 STONEWARE & POTTERY INKS
- Made from fired clay, these inks come in a variety of shapes and sizes.
21. Very unusual Doulton master ink with peculiar patent square section top. Orange brown glaze, DOULTON pottery mark plus a diamond registration mark, 14cm tall. ……. $15
22. 13.5 cm tall brownglaze master ink - BOURNE DENBY pottery mark. $10
23. 12cm tall orange/brown glaze master ink, fancier bottle than above, shape resembles the glass master inks BOURNE DENBY pottery mark $15
24. 11.5cm tall brownglaze master ink LOVATT & LOVATT pottery mark $15
25. 11cm tall unusual mustard colour glaze master ink , pottery mark is GRAY PORTOBELLO - not a common pottery mark either, very slight bruise under the lip $15
26. Cream glazed ink with pouring lip, impressed PRIDGES INKS, LONDON . N.E (rare to have the word INK included) $20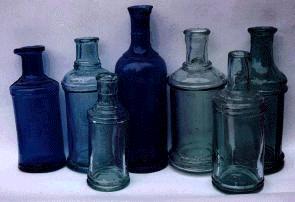 GLASS MASTER INKS
27. 1.16cm tall dark aqua master, embossed COCHRAN&Co. LIVERPOOL around the shoulder. Has a pouring lip formed inside the mouth of the bottle. $15
28. 16cm tall aqua master ink with two double rings of glass at the base decoration. Pouring lip fomred inside mouth of bottle No embossing $10
29. 15cm tall aqua master, has a fancy double ring of glass at the foot and shoulders of the bottle for decoration $10
30. 14cm tall aqua master, has a double glass ring at foot and shoulders - pouring lip protrudes over and down front of bottle $10
31. 12cm tall aqua master, double glass ring at top and shoulder plus more rings around abse of shoulders. Is emossed LYONS INK down side. Pouring lip formed within the mouth. $15
32. 18cm tall mid to dark cobalt master ink with pouring lip.Has 18 rectangular panels which form the sides of the bottle. Very elegant too $40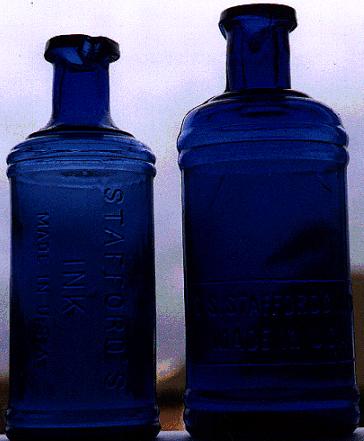 33. 17cm tall mid blue master ink embossed STAFFORDS INK MADE IN THE USA Writing is embossed up the side of the bottle. Has a very long pouring lip and is a nice bottle for just $40

34. 18cm tall mid blue to cobalt master ink embossed S S Staffords Inks Made in U.S.A in a panel horizontally across front of bottle at base.Again has a nice long pouring lip. Rarer than the Staffords ink above $45

Please note : Master inks were used to fill up inkwells or smaller ink bottles, hence the reason why just about every one had a pouring lip formed into the bottle. Probaly the most attractive masters are those which come in cobalt blue glass.- you will find two of them here.
Apologies for a slight cock-up on the photography front. The blue inks photograph shows both shearlip and applied lip inks
Nothing here for you here ? - well tell us what inks you would like to see here and we will try to help.If you do want something, better get on with that e-mail. Bottles on our lists tend to go very quickly because they are priced to sell!!