FOOD BOTTLES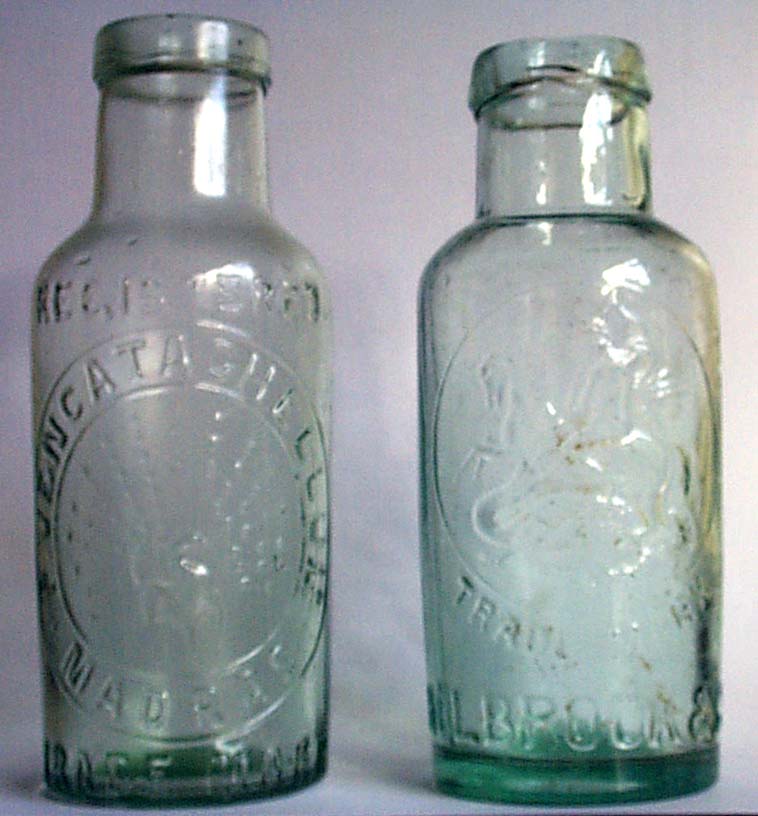 1.20cm tall aqua widemouth pickle jar embossed – P VENCATACHELLUM MADRAS REGISTERED TRADE MARK. Carries a glorious pictorial of a PEACOCK displaying its outstretched tail feathers. A great pictorial food item, good condition, no damage. Glass is very slightly dull esp on the back but not sick. Very rare - $50
2. 19.5cm tall aqua widemouth pickle jar embossed – HOLBROOK & Co TRADE MARK. This jar carries a simply superb pictorial of SAINT GEORGE ON HORSEBACK SLAYING A DRAGON. Superb near mint condition too ! $75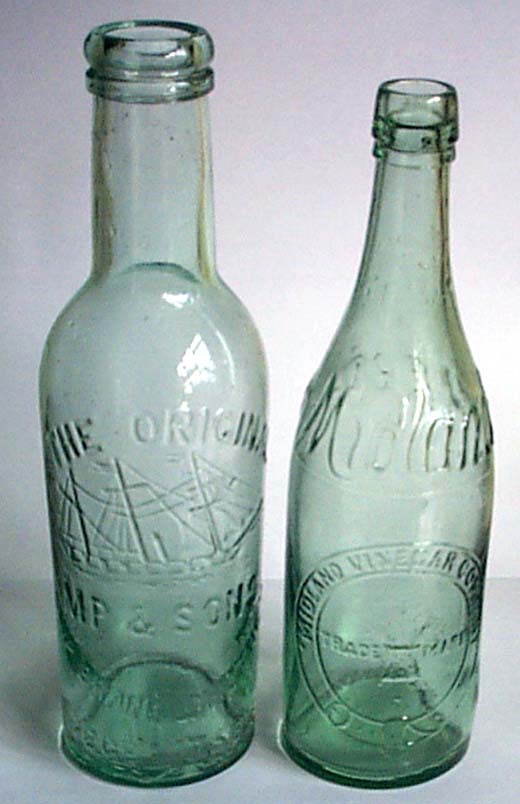 3.28cm tall heavy aqua widemouth chutney bottle embossed – THE ORIGINAL SHIP BRAND CHUTNEY MP & SONS RGD NO 175813. Also carries a fantastic pictorial of a sailing cum steamship with 3 masts and 1 funnel embossed right across the bottle. Another great pictorial food bottle in really good condition - $55
4.26.5cm tall heavy aqua vinegar bottle embossed – MIDLAND VINEGAR COMPANY embossed in a buckle device plus MIDLAND VINEGAR again but in much bigger script writing alla round the bottle. Also carries a good pictorial of a WHEATSHEAF. Another rare food bottle in good condition. This is an early item and pictorial vinegars are rare $40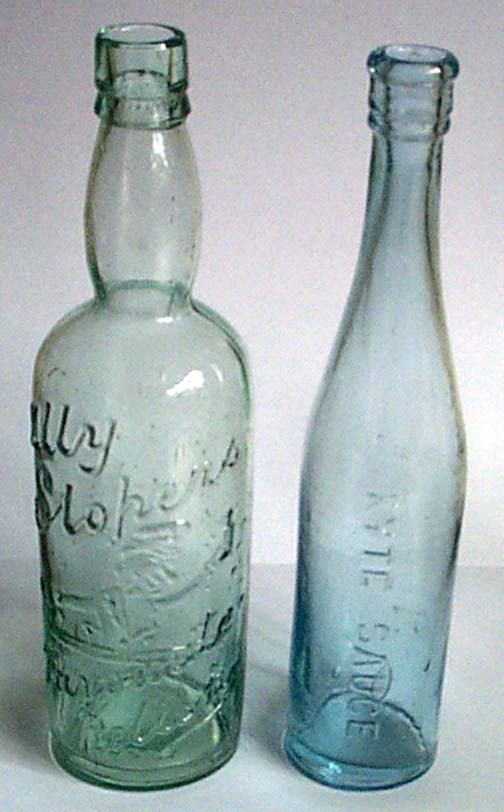 5.26.5cm tall aqua relish bottle embossed – ALLY SLOPERS FAVOURITE RELISH. Also has a big pictorial of cartoon character (who WAS called Ally Sloper) who has a big bulbous nose and is holding up a bottle of relish in one hand. Dates to early 1900's. Another good food bottle $45
6.26cm tall ICE BLUE sauce bottle embossed KYTE SAUCE. This bottle is long and slender and only $25 for a COLORED SAUCE !!
7.20cm tall fancy aqua vinegar bottle embossed – FARDONS PURE MALT VINEGAR – bottle has no less than a total of 16 panels and is only $20
8.20.5cm tall LIGHT TURQUOISE sauce bottle embossed – DADDIES FAVOURITE SAUCE -. This is a burst lip or shearlip type and has a naturally made rough edge to the lip. Only $25 for a RARE COLOR SAUCE
9.20.5 cm tall aqua burstlip or shearlip sauce embossed – FLETCHERS INDIAN SUACE SHIPLEY YORKS – Would suit both FOOD bottle and INDIAN bottle collectors – only $25
All bottles have been fully described and the condition has been indicated – all are in merchantable condition. The price includes air mail postage to the USA & Canada. If interested in any item please e-mail in your order on the hot e-mail link below. We will then check stock and e-mail you with payment information. Looking for food bottles that are not here ? Please let us know – we act on wants lists.
Click here to send an e-mail direct