FEEDING BOTTLES / NURSERS FOR SALE
Buy now while still available !!
Banana or Boat Shape Feeders
1. A1 Hygienic Feeder - clearglass,tablespoons & ounces gradations, standard size $25
2. The Pixie Feeder - clearglass banana or boat feeder - $25

3. The Chiswell Hygienic feeder - clearglass banana or boat feeder $25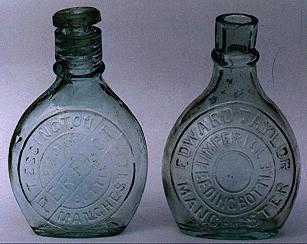 Turtle or Banjo shaped feeders
Advertising Turtle or Banjo Shaped Feeders
NOTE.This is a new and rare category, first time ever in the Virtual Bottle Shop. These nursers actually carry embossed advertising for other products sold by the chemists who had the bottles made !! One of the bottles below carries ONLY advertising and only one name gives a clue to where it came from.
1. EDWARDS CHEMIST FALLOWFIELD-Edwards Food Makes Children Strong. Clearglass turtle with internal screw neck and a Manchester rarity. $50
2. TRY JEANS MALT FOOD FOR INFANTS - Jeans was a Manchester Chemists and so we do have some provenance for this very rare clearglass turtle which has an internal screw neck, complete with clearglass screw stopper $50
Slipper / Torpedo / Submarine Shape Feeders
1. Plain Submarine - Very early non embossed submarine type feeder. Has a single hole on the top for filling and the bottle has a formed glass nipple for feeding with a very narrow opening. Very early, dates to 1840 - 1880. Classy early feeder $90 (will accept layaway on this item)
Upright Flask shaped Feeders
(this is a rare and early grouping circa 1870-1890)
1. T.Egginton Manchester . Very rare aqua flask feeder - looks very early indeed, took a cork or similar type stopper $40
Unusual shape or patent feeders
1. The Alexandra Feeding bottle S Maw Thomson, clearglass turtle and has a very rare EXTERNAL rather than internal screw cap thread. $40
2. The Allenbury's Feeder. A clearglass double ended bottle but not a banana. Has an end that sits flat and one end points up. Was first made in 1890. $40
3. Surefeed Cardiff. Very unusual clearglass PEAR shaped feeding / nurser bottle. $40

All embossing on the bottles is shown as bold text. All prices do include air mail postage direct to your address ! Bottles are sold on a first come/first served basis but we also offer a finding service. If you see a bottle you want, e-mail us to check it is still available. We will reply and let you know ! Keep checking this page. We know nursers are popular and we intend to keep replacing the stock Prices are in US $ Want anything ? Just e-mail us, order it and give us your terrestrial address - thats it !
E-mail for orders Bygonz@yahoo.com
Return to Bottle Shop Listing