EYE WASH CUPS for SALE
All prices include postage via air mail. All bottles are in good to excellent condition - no chips, cracks, stain or sickness unless otherwise noted - but e-mail us if you want more information. This page last updated July 2000
FREEBLOWNS
1. Clearglass freeblown eye wash cup with a large cup or bowl and small pedestal . Nor markings – pontil mark on base has been smoothed and ground down as have the top edges of the eye cup. Very heavy for its size – just inder 2.5 inches $50

2. STUNNING cobalt blue freeblown eyewash cup with unusually long stem. Again pontil mark has been ground down but still has some roughness . First blue freeblown like this I have ever seen. $125
BLUE EYE WASH CUPS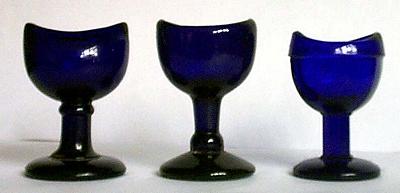 1.DEEP cobalt blue molded cup, marked MADE IN ENGLAND & W on base. Note the ring around the stem is near to the bowl or cup which is quite narrow . $30

2. DEEP cobal blue molded cup, marked – MADE IN ENGLAND W again but smaller and embossing is less distinct. Different to cup above in many respects – Has a ring of glass around the stem near the base and cup is also more open. Same price though - $30

3. Panelled mid cobalt bue eye wash cup. Made of panels on the cup. Base is marked – BRITISH MADE. Has a chip on the edge of the pedstal or base so only $20
GREEN EYE WASH CUPS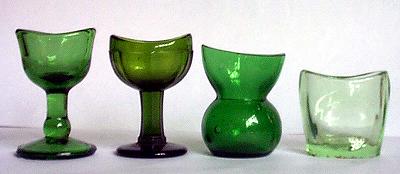 1. RARE outward sloping bowl emerald green eye wash cup. Its a molded cup but carries no markings. Rare and unusual and a great color - $40

2. Panelled mid green eye wash cup – made of 8 panels on the cup. Another molded cup but no markings $35

3. RESERVOIR or GLOBULAR eye wash cup in superb emerald green. Another molded cup which has some embossing on the base but it is very hard to read. $35

4. VERY RARE ICE LIME GREEN tub or bucket eye wash cup. Has two panels on the cup for gripping.. Rare but does have some slight damage – a small chip on the side at the base. This cannot be seen when displayed sideways on. Reduced to only $25
OTHER EYWASH CUPS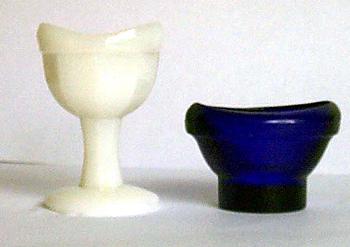 1. RARE white or MILKGLASS eye wash cup – its an 8 panelled cup type similar to the blue and green examples above but MUCH RARER. Its absolutely genuine, coming out of an old English collection. Yes we know about the repro milkglass cups on the market but do they have a small G embossed under the base ? This one does !! $35

2. Small cobalt tub or bucket eye wash cup which is embossed on the base – OPTREX SAFEGUARDS SIGHT. Very small or squat – just over 1 inch high. $35
Please note – ALL cups are GENUINE and ALL prices include postage to the USA / Canada by airmail. You can order / reserve them directly from the email link below.
PLEASE NOTE - Writing in bold gives you the full embossing details
MORE EYE WASH CUPS coming very soon. In the meantime if you are hunting any particular examples please do let us know.
E-mail for orders bygonz@yahoo.com