WARNERS, CURES, MEDICINES & SARSAPARILLAS for SALE
All prices include postage via air mail. All bottles are in good to excellent condition - no chips, cracks, stain or sickness unless otherwise noted - but e-mail us if you want more information. This page last updated February 2000
WARNERS SAFE CURES
ROCHESTER WARNERS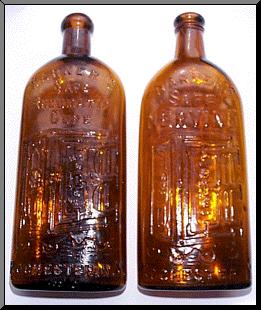 1. Pint BROWN WARNERS SAFE RHEUMATIC CURE ROCHESTER N.Y. Blob top. A much rarer Rochester variant . Bought at Memphis 1987 ! £75 / $125

2. Pint BROWN WARNERS SAFE KIDNEY & LIVER REMEDY ROCHESTER N.Y. Blob top Rarer than the cure ! £45 / $75

3. DARK BROWN 12 ½ FL OZ WARNERS SAFE REMEDIES Co. ROCHESTER N.Y USA . A late Warner's variant with chisel type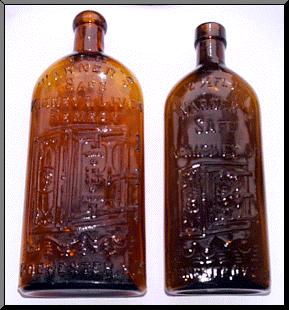 lip. £35 / $55

4. CLEARGLASS 12 ½ FL OZ. Chisel type lip. Possibly one of the very last Warner's bottles ever used. £40 / $65

5. Half pint WARNERS SAFE REMEDY ROCHESTER N.Y. Blob top variant £35 / $55

6. BROWN 6FL OZ WARNERS SAFE REMEDIES Co. ROCHESTER NY USA. One of the very last of the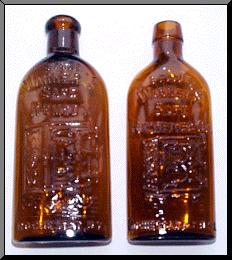 many Warner's bottles. £30 / $55

LONDON WARNERS

7. AMBER PINT WARNERS SAFE CURE LONDON. Nice light amber color £35 / $60

8. HALF PINT WARNERS SAFE CURE LONDON . Mid brown color £30 / $55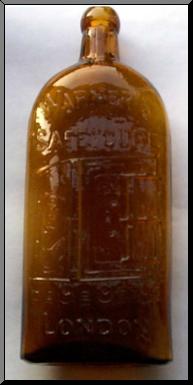 9. HALF PINT WARNERS SAFE NERVINE LONDON. Rare Brown color with slight hint of red $40 / $75
PROPRIETARY CURES & MEDICINES
1. B W Hair & Sons Asthma Cure London. Mid shade of brown or amber $25
2. Palmacora, Skinetolin - A rare cobalt blue bottle that contained a medicine or cream for the skin $35
3. Bennetts Hyssop Cure Stockport. A rectangular aqua cure which has sunken panels and comes from Stockport, my home town! $20 (not illustrated)
4. Venos Lightning Cough Cure $15 aqua bottle (not illustrated)
5. Jackson's Antizyme or Fever Cure Bawtry. Attractive little rectangular section cure in nice shade of light or ice blue and only $20 !
6. Full label (well 95%) for Jacksons Antizyme or Fever Cure. Note the bottle with the label on is unusually lite green and embossed Jacksons Antizyme Bawtry. Only $25
7. Woods Great Peppermint Cure for Coughs & Colds 14cm tall , aqua and is priced at $20
8. The Cuticura Sytem of Curing Constitutional Humors - Potter Drug & Pharmaceutical Corporation Boston Mass USA -Nice color ! Light turquoise aqua !! $30
9. Liqufruta Cough Cure Aqua rectangular section. Note embossing is on side panels leaving main panels free for labels. Only $20
10. Kent Balsam of Aniseed Tunbridge WellsRare early circa 1880s smooth base medicine $20 (not illustrated)
11. J A Turner Tamarind Cough Emulsion Liverpool. Early looking ice blue oval smooth base medicine $15 (not illustrated)
12. Congreve's Celebrated Balsamic Elixir for Coughs, Hooping Cough & Asthma A tiny clearglass medicine only 7.5cm tall which looks really, really old. Nice rippled glass. A nice little one ! $15 (not illustrated)
13. Venos Seaweed Extract. Aqua smooth base medicine - actually much rarer than any Venos Cure and one of only wo UK medicines I know of using the word "seaweed"!! Only $15
14. Kaffir Medicinal Tea. This is a tiny little rectangular tea bottle - isnt KAFFIR a South African word ?? $15
15. Gresty's Cough Elixir Pendleton Manchester Rectangular Cough Medicine $15
SARSAPARILLAS
1. Hoods Sarsaparilla C I Hood & Co Ltd London Eng - This is the English version of a well known sarsaparilla $15
2. Compound Extract of Sarsaparilla - A valuable Spring Summer and Autumn Medicine - Boots Cash Chemists - a rare all white pot with black stencilled writing $30
PLEASE NOTE - Writing in bold gives you the full embossing details
MORE CURES & MEDICINES coming very soon. In the meantime if you are hunting any particular cures and medicines please do let us know.
E-mail for orders bygonz@yahoo.com