UK BITTERS LISTING
There are very few bitters bottles in the UK - the reason is quite simple, many bitters bottles carried paper labels which have not survived. The embossed bottles are therefore quite rare .There are probably fewer than 12 different embossed glass bitters bottles and a similar number of stoneware hop bitters bottles.
UK bitters can be classified into four distinct groups as detailed below
TRUE BITTERS
These contained a medicine that was fortified with alcohol hence "true" bitters
DR.SOULES HOP BITTERS. Comes in small and standard or large sizes in shades of amber glass. Identical in all but name to DOYLES bitters. Asa Soule marketed his bitters in the UK under his own name. The small size is very rare and to be frank, not so many of the standard size are around today either
DR.SOULES HOP BITTERINE. A slight variation. Bottle is same as a Soules but the embossing is different. Just do not see these for sale anymore - very rare !
HEILBRONS AROMATIC BITTERS - Cylindrical , ladies leg top in aqua. Very scarce, had only one of these in 20 years.
ROYAL AMARANTH BITTERS. Cylindrical aqua bottle with elongated thin neck. Another rarity, had only two of these
ROSES ORANGE BITTERS. Cylindrical shape again in dark aqua to green. Very rare - never had one !
MEDICINE SHAPE BITTERS
These were probably sold by chemists as a medicine as they all come in typical rectangular bottles
MOONSEED BITTERS - aqau reactangular bottle, hard to find now
GWILYM EVANS QUININE BITTERS .This bottle is embossed on the side panels and comes in at least three different sizes and possibly four. As well as aqua also known in more attractive ice blue.
BILLINGTON'S MANDRAKE BITTERS , Barnsley. A very rare aquu rectangular bottle - only ever had one.
FRANCIS'S BITTERS Totally new to me but a collector from the US sent me a good image. Its defintely English, rectangular sort of medicine shape, aqua and mega rare !! Have YOU ever seen one ?
SODA BITTERS
Soda bitters were actually just that - SODA'S. they were made from the same ingredients as beer but not allowed to ferment, creating a soft drink with a sharp bite !! There are two types at least as some were bottled in stoneware bottles and others in glass bottles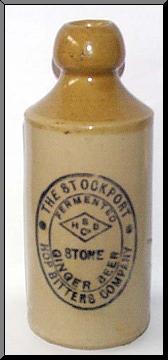 TAYLORS HOP BITTERS Manchester. Dark green mineral type bottle with attractive pictorial of Admiral Rodney. Comes in pint and half pint sizes.
BLACKSHAWS HOP BITTERS, Stockport. Comes in aqua and dark green glass bottles
HANSARDS HOP BITTERS - known in both brownglass and greenglass bottles.
THE STOCKPORT HOP BITTERS COMPANY. Comes in a stoneware ginger beer type bottle, writing is stencilled or transfered on the bottle
SKETCH'S PURE HOP BITTERS - Stencilled stoneware ginger beer type bottle
HANSARDS HOP BITTERS - Stencilled stoneware ginger beer type bottle
COCKTAIL BITTERS

These contained a compound to add to wines and spirits to make a "bitter" drink eg like BRANDY SOURS! Most were cylindrical with a paper label. Only one embossed one known.
KHOOSH Bitters. Very fancy brown bottle with laid on rings of glass ascending up the bottle neck. Note some have KHOOSH embossed on a glass disc on the neck. Others do not have the embossing.
ALL UK bitters must now be considered as hard to get as the tips become dug out. Some are very, very rare. If you know about more UK bitters I would like to hear from you.
E-mail for information Bygonz@yahoo.com